Accounting Software Support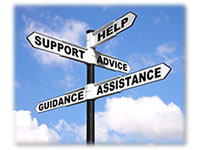 Companies that do not receive good customer support experience missed mile-stone dates during their implementation, loss of time and money, end up doing double or triple the amount of work, become frustrated and over whelmed with the accounting software change, and become unable to produce accurate financial reports. It is important to New Millennium Solutions to provide superb support because we understand the costs in time and money when the Clients are not properly supported with their accounting software.
New Millennium Solutions partners with Microsoft Dynamics GP clients throughout the implementation phases, provides comprehensive training, and support & guidance on Go-Live day. Our ongoing support services ensure that you get the most out of your accounting software by providing updates regarding new software functionality, providing recommendations on how the updates can help improve business processes, and providing insight to strategically plan for the future.
We offer the following levels of support:
Remote support
On-Site support

Phone support
Email support
Contact us to learn more about our accounting software support services