Dynamics GP: On-Premise or Hosted vs. SaaS
Microsoft Dynamics GP offers pricing options that let you choose whether you own the software or you pay for a monthly or annual subscription license (SaaS), but do not own the software. When you purchase Dynamics GP, you have the choice to install it on your servers, or you can choose to have it hosted by a Host Provider on their servers. Whether your deployment platform is on-premise, hosted, or as a SaaS, you will need to schedule upgrades for Dynamics GP. Whichever your preference, you have the flexibility to choose the option that's right for you.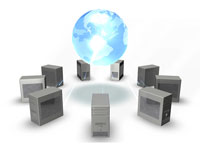 On-Premise or Hosted GP Platform
Owner of Dynamics GP
With an on-premise platform deployment, Dynamics GP software is located on your servers, and you are responsible for the database and software backups and the disaster recovery procedures. With the hosted platform deployment, you will want to verify the contract states that the Host Provider is responsible for the backups and disaster recovery. You will also want to verify your data will remain your data into the future. NMS will provide the system requirements document so you can set up the necessary hardware and operating systems for the on-premise platform, and we will install all the Dynamics GP software onto your servers and workstations. After installation, we can train and support your in-house staff to maintain the system. If you choose to have your accounting software hosted, you will need to determine who will install, maintain, and upgrade it. Some host providers will provide those services and others will not.
With on-premise deployment, you can:
Leverage Existing Investments
Help reduce costs by using the hardware and software you already own.
Easily Connect with Legacy Systems
Although most cloud solutions can connect with existing equipment, on-premises solutions can always do so.
Help Guarantee Predictable Performance
On-premises solutions are not subject to fluctuations in performance or availability due to the Internet (although on-premises solutions are not necessarily faster than hosted ones).
Support Compliance Requirements
Address compliance with security and other policies that require on-premises solutions.
With hosted platform deployment, you can:
Allocate Resources to non-IT Functions
Allocate funds that would be spent on hardware, networking equipment, data security, backups, and disaster recovery procedures to essential business needs.
Own Dynamics GP
With this option you pay only the annual software maintenance and a reduced hosting fee per user.
Improve Remote Access
Hosted solutions can provide easier access away from the office.
By working with NMS, who uses a proven methodology—implementation processes and tools—you can achieve a successful implementation.
SaaS GP Deployment
Leasing Dynamics GP
With a SaaS deployment solution, you will want to verify your Provider can perform disaster recovery for you and do it in a timely manner. You will also want to verify that your data will remain yours into the future and to determine your exit strategy from both the Provider and Dynamics GP. Determine how easy it will be to take your data with you or archive it so you can always view your historical data. New Millennium Solutions can help you select a third-party hosting provider to host your Dynamics GP software on their servers in a SaaS environment for access via internet browser.
SaaS platform deployment for Dynamics GP allows you to:
Minimize your Initial Investment
Help reduce your start-up costs by avoiding upfront hardware and software purchases.
Get Up & Running Quickly
SaaS solutions generally offer faster deployment options because they already have the hardware and software.
Manage Your Cash Flow Better
Support your business as it grows with low and predictable costs that scale with your usage needs.
Scale the Solution as Needed
SaaS licensed Dynamics GP offers scalability that fits your organization's growing and downsizing needs.
Maximize Internal IT Resources
Free up your internal IT staff for tasks that provide more value to your organization.
By working with NMS, who uses a proven methodology—implementation processes and tools—you can achieve a successful implementation.