Microsoft Dynamics GP Components
Microsoft Dynamics GP needs a minimum of three components to be a functional accounting system. They are the SQL Database, the Dynamics GP application (Financials), and the Management Reporter (MR), which is the financial report-writing tool. An additional optional component is the Integration Manager (IM) tool that is used to import data into the Financials, and companies can choose to purchase it to upload data on an on-going basis, or they can use it just during the implementation at no cost. In addition to the Management Reporter, the SQL Server Reporting Services (SSRS) and Excel Exports can be used to produce reports.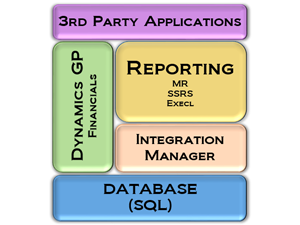 As is the case with all accounting software, the application itself does not always meet all the company's accounting processing or workflow needs. These functionality voids within the accounting software creates a market for companies to build and design applications that will seamlessly integrate with Dynamics GP and fill the functionality voids. New Millennium Solutions, with its years of experience, can guide you through the installation, implementation, and provides on-going support.
The Components:
SQL Database

Dynamics GP uses the robust SQL Server database engine. The SQL Server can be installed onto a server or a virtual server. The SQL installation also includes installing the Reporting Services, which enables you to use browser accessible SQL Server Reporting Services (SSRS) reports for Dynamics GP. SSRS allows you to create reports using data from all the accounting modules, as well as pulling data from other SQL Server installation(s) on your network. With the SQL Server, you can create scheduled backups of your databases and store them to another device to be taken off site so they will be available to restore your accounting data for any reason. The later versions of SQL provide more graphics capabilities, thereby, making it possible to create dashboard reporting.

A functionality benefit with the SQL Server database engine is to create SQL Views and display the results within an Excel spreadsheet. A popular view for businesses using multiple Dynamics GP companies is to create a SQL View that will consolidate all the GL accounts with their associated Company ID into one listing. This listing is then displayed within Excel. This method enables the user to see all their GL accounts in one location without needing to log into each company one at a time to view the GL accounts. It also enables the user to identify duplicate GL accounts or GL accounts that were incorrectly setup. When changes are made to the GL accounts, a simple database refresh within Excel will display the most recent changes.

SQL Server also has the ability to run scheduled jobs that can both import and export data for one or more database tables.

Financials

Dynamics GP is a vigorous financial application that provides a company up-to-date financial reporting and data visibility throughout the application and gives people across your organization the tools they need to improve financial management, financial forecasting, and accounting throughout your organization.

There are various on-premise install platform options for Dynamics GP such as a server, virtual server, terminal server, and a virtual terminal server, or there is an off-premise install option with a Host Provider. When installing Dynamics GP onto a server or virtual server, the Dynamics GP client applications will also need to be installed on the individual user's workstation. In the case of the terminal server or virtual server option, it is expected the users will log into the terminal server, and therefore, there will be no need to install the application on the individual user's workstation.

Dynamics GP is more than an accounting system. It is an Enterprise Resource Planning (ERP) application because it can integrate with Customer Relationship Management (CRM), Point of Sales (POS), Manufacturing, Project Accounting, customized software, and more. It can provide reports to help manage your business, including multi-currency and consolidated reports.

Dynamics GP has the following products/modules:

| | |
| --- | --- |
| | General Ledger, Cash Management, Accounts Payable, Accounts Receivable, and Fixed Assets |
| | Purchasing, Sales, Inventory, and Bill of Materials |
| | Payroll and Human Resources (HR) |
| | Project Accounting |
| | Manufacturing |
| | Multi-Currency and Multi-Companies |

Microsoft has integrated Dynamics GP with their other products such as Outlook, Excel, Word, SharePoint, and their web services, which enable the users to take advantage of the other Microsoft products. Microsoft is also developing Dynamics GP with browser accessible functionality and will continue to add additional modules and functionalities.

Integration Manager

Integration Manager (IM) is a tool used to import data into Dynamics GP tables. IM uses data populated in a csv or txt file or a SQL table to upload into Dynamics GP. The IM is used to create the mapping relationship between the upload file fields and the Dynamics GP fields. It can upload and update specific objects and fields within Dynamics GP. On occasion the user needs to upload data, but the IM does not provide the mapping capabilities for the desired field(s). When this situation occurs, the user can purchase other integration tools that will upload the data. Microsoft provides out-of-the-box integration files, but it can take longer getting those files working than it does to create new files.

Management Reporter & SSRS & Excel

Management Reporter (MR) is a real-time financial reporting application designed to empower the users to quickly and easily create, generate, secure, and publish financial statements. It uses an intuitive approach to design reports and has a robust architecture that will be familiar to users of FRx. MR is the replacement for FRx and has been developed to enable FRx users to quickly become efficient report designers.

With a properly designed chart of accounts and MR, business users can create their own boardroom-quality reports without IT assistance, take advantage of secure report distribution through the centralized Report Library, and gain strong support for regulatory compliance. Users can generate MR reports that will drill down to the various Dynamics GP transactions that are part of the total amount of the report. If the user has multiple companies, MR can be used to generate consolidated reports. The most common reports created within MR are the Balance Sheet, Profit & Loss, Cash Flow Statement, and a Trial Balance. All these reports can be compared to a budget. There are other reports that are designed to compare various aspects of the business. NMS can provide guidance for you when setting up the chart of account structure to maximize your reporting flexibility, direction when building your MR reports, and provide MR training so you will have the skills to create your own reports. Management Reporter includes direct integration with the Dynamics GP General Ledger so there is no need to create a custom connection to the data source.

SQL Server Reporting Services (SSRS) is a reporting tool that enables you to run your reports from the Internet browser. Once a SQL programmer creates the data sources, the user can create custom-looking reports to use the data sources. Unlike MR, which only reports on the data within the General Ledger, the SSRS reports have the capability to report across all modules and include other SQL Servers' databases. SSRS reports have the functionality to drill down to the data contained within Dynamics GP, and graphical expression of the data can be included. Microsoft provides a library of out-of-the-box SSRS reports.

Microsoft also has out-of-the-box database Excel refreshable reports. This feature is very convenient because the user can use the Excel spreadsheets to create reports and graphs without logging into Dynamics GP.

Dynamics GP offers several reporting tools to give the users the most flexible methods to report the accounting data in the desired formats.

3rd Party Applications

Dynamics GP has many features within its application to cover various processing needs. However, there are specific business verticals or companies that need some additional functionality that is not available out-of-the-box. When this situation occurs, we turn to the Independent Software Vendor (ISV) community for Dynamics GP to locate an add on to accomplish the desired processing. Dynamics GP has been around since the DOS days so there are many high quality applications available.

Once a gap in Dynamics GP functionality has been identified, we inquire into the ISV community and locate an application. If no applications exist, then customizations can be created to resolve the gap.
Contact us to learn more about Microsoft Dynamics GP components and implementation services