OUTGROWING QUICKBOOKS – TIME TO MIGRATE!
If you think you are outgrowing QuickBooks, then Congratulations !   Your business is growing.  At this stage of your business, you could be experiencing the limitations of QuickBook's accounting and reporting functionality, its inability to integrate with other business applications, or its inadequate database performance.  These limitations are costing you time, money, and decision-making information.  It is time for you to migrate to a more robust accounting software.
Why Migrate to Intacct?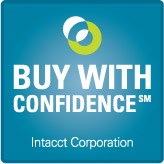 Intacct's architecture supports growing companies with its SaaS cloud-based scalable accounting software.  With Intacct's 4 upgrades per year, you can be confident they are focused on providing you timely and relevant functionality for your business processes.   Intacct is the only accounting software company to receive the endorsement of the American Institute of Certified Public Accountants (AICPA) organization for CPAs.  Intacct offers more accounting features, reporting functionality, integrations with other cloud based applications like SalesForce (Customer Relations Management), Orange Leap (Donors & Donations Management), Nexonia (Credit Card & Employee Expenses Management), QStock (Inventory Management), Bill.com (Payment Processor), etc.  Intacct also offers user and programmer customization functionality.  Furthermore, it enables you to access your dashboards, reports, and graphs from your mobile devices from anywhere you have internet connectivity.  Besides the expected general ledger, cash management, accounts payable, and accounts receivable, Intacct has many other features.
Other reasons to switch to Intacct:
You have the ability to create your own stunning reports and graphs without the use of a programmer.
With Intacct's multi-dimension GL accounting architecture, you increase the data you display in the financial and management reports and greatly reduce the number of Excel reports you currently use with QuickBooks.
With Intacct's multi-entity architecture, you can better manage your multiple companies by sharing the chart of accounts, vendors, customers, employees, items, projects, departments, locations, etc., for consolidated reports, as well as, manage the companies individually.
If your company goes international and needs the ability to process transactions in multi-currencies, Intacct provides this functionality.
There is no need to waste time and money with your manual and error-prone purchase requisition process, because Intacct offers an automated approval workflow that updates the accounts payables without re-entering the purchasing data.  These are only some of the reasons to migrate to Intacct.  Learn more…
Let's get you started with your migration to Intacct. Contact us